Truth in Media Global Watch Bulletins
TiM Bulletin 2004/8-1

August 11, 2004

Personal photos - August 11, 2004

The King and I

George W. Bush in Phoenix
FROM PHOENIX, ARIZONA

U.S. AFFAIRS
The King and I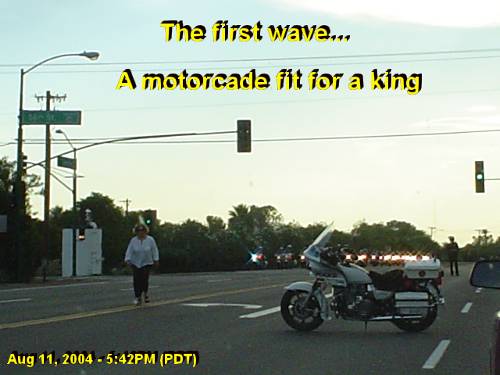 Who says there is no such thing as American royalty? Take a look at how an American king travels these days. One of the busiest streets in Phoenix (Camelback Rd) was blocked for hours as His Majesty George II made his way in and out of the Royal Palms resort (how appropriate a name!), which is only hop skip and a jump from our home. So yours truly had to cool his heels twice today, trying to get through.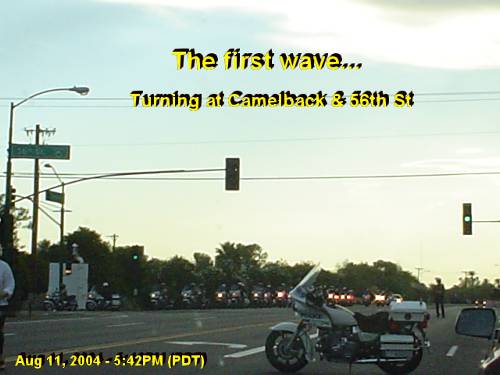 As I waited for the George II motorcade to pass, I talked to my wife on the phone, and said, "I am glad it's so damn hot here today" (my car thermometer was registering 111F, down from 114F a few minutes earlier on the north side of Camelback Mountain. "I hope he (His Majesty) fries!" ("… in hell," I thought, but did not say).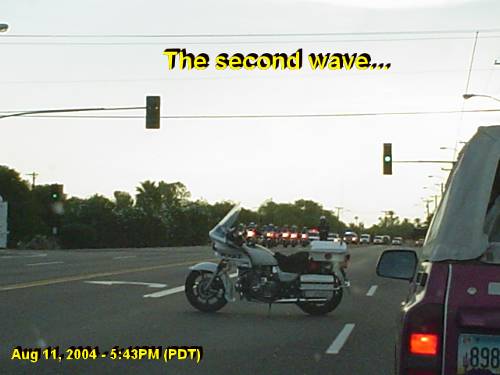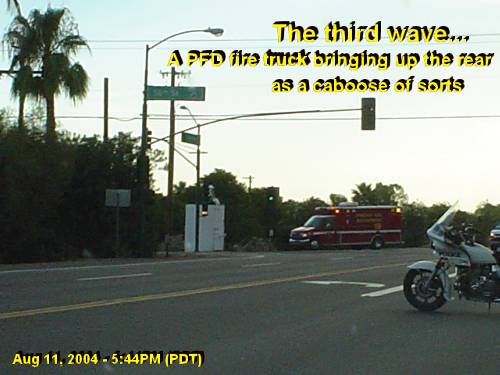 As you can see above, a fire truck brought up the rear of this long convoy of several hundred vehicles. Why would they need a fire truck as a presidential escort? I suspect the Secret Service's explanation would be something like "to assist in case of a crash or a bomb attack." But I could not help but chuckle... What if they were serving pretzels at the local fundraisers? Maybe the firemen were there to administer CPR in case His Majesty gets struck again by a case of pretzelitis? J (see "Enronizing Pretzelitis-" New Alzheimer Strain... Jan 17, 2002).
Finally, at about 5:45PM, the cops let us through, heading westbound on Camelback Rd. As we drove by the Royal Palms, dozens of policemen and secret service agents were still around. The city of Phoenix must have deployed literally hundreds of cops, not to mention the federal agents, to escort His Majesty. Not even Tito, the penultimate emperor and the hated communist dictator in whose shadow I grew up, traveled with as much protection.
Don't you love the way we love our President? Isn't it great the way he "mingles" with ordinary people? J
P.S. Later on this evening, my wife was also detained trying to come home. His Majesty was evidently visiting some rich Phoenician in our neighborhood, as all of Arcadia was blocked off to traffic. Eventually, she made it home by circling the Camelback Mountain from the north. What is normally a five-minute drive, took nearly an hour!
"One less reason to vote for him," I told her when she came home. J (Not that either of us would have voted for him anyway).

Also, check out some of some other reports on New World Order, such as... Stitching Together the New World Order Flag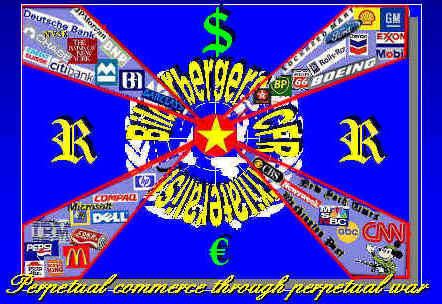 Plus, click

here for an Index of 911-related articles ... and for others on Balkans and Global Affairs.
...such as… "Plutocrats of the World Unite," "Bush League All-Stars," "Enronizing Pretzelitis:" New Alzheimer Strain Strikes Potus Potatus Primus

, Censorship Comes to America, Grotesque and Pathetic War, Clash of Greens, End of Folly, Not of World, Collateral Damage Hits Home.
---
----------
Also, check out... Djurdjevic's CHRONICLES magazine columns: "ON THE BRINK OF MADNESS", "A BEAR IN SHEEP'S CLOTHING", "WALL STREET BOOM, MAIN STREET DOOM", "PERPETUAL WAR FOR PERPETUAL COMMERCE", "WIPING OUT THE MIDDLE CLASS", "WALL STREET'S FINANCIAL TERRORISM"
Or Djurdjevic's WASHINGTON TIMES columns: "Christianity Under Siege," "Silence Over Persecuted Christians", "Chinese Dragon Wagging Macedonian Tail," "An Ugly Double Standard in Kosovo Conflict?", "NATO's Bullyboys", "Kosovo: Why Are We Involved?", and "Ginning Up Another Crisis"
Or Djurdjevic's NEW DAWN (Australia) magazine columns: "Macedonia: Another Farcical American Oil War," "Anti-Christian Crusades," "Blood for Oil, Drugs for Arms", "Washington's Crisis Factory," and "New Iron Curtain Over Europe"